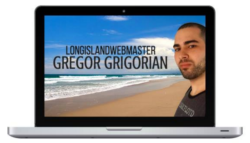 My full name is Gregor Grigorian but most people call me Greg. I am the founder and owner of Long Island Webmaster; a private website management company on Long Island. Yes, I'm a New Yorker and I love living here!
I was born and raised in Long Island, New York and I continue to live here to this day. I have also lived in California for a few years while attending college and afterward for a brief time. An amazing time but nothing like New York.
I currently operate this website with a small team of college-educated people (living in New York) who specialize in fields such as web design, digital marketing, content production, search engine optimization, back-end development, and similar fields.
I am the Webmaster and it's my job to ensure your website is properly managed and maintained. I created this webmaster company for the purpose of helping businesses with their digital ventures, especially their website design and search engine optimization.
I have 15+ years of experience in creating and managing websites while also working with notable brands throughout the United States, many of the companies I've worked with have been featured on mainstream or local news.
Long Island Webmaster is here to help businesses in the New York area and beyond, Long Island Webmaster is one of the last webmaster companies in the New York area and strives to deliver high-quality website management and maintenance.
Many businesses that I help are spread throughout the Long Island area such as Nassau County and Suffolk County.